P-Campus Summer School "Scientific Writing and Successful Publishing"
TUESDAY, 06.09.2022 - FRIDAY, 09.09.2022 | ROSTOCK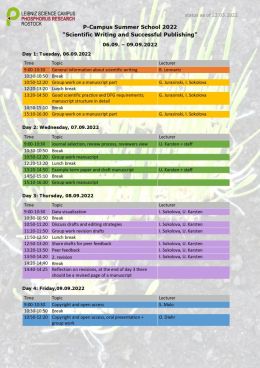 Note: Due to the Corona situation, the Winter School had to be postponed again. It will now take place from Tuesday, 06.09.2022 to Friday, 09.09.2022 in the building of the Department Life, Light & Matter in Südstadt (Albert-Einstein-Str. 25, 18059 Rostock).
General objective of the Summer School: The foundations for a successful publication of research results in scientific journals should be laid. The PhD students should be able to write and submit scientifically correct structured manuscripts and to cope with the review process.
Participation is free of charge. The workshop will be held in English. During the workshop, however, questions can be asked in German as well as in English.

You can find the agenda here: schedule
We will send you a further concretization of the schedule, detailed instructions for participation and necessary documents in time before the event.
The number of participants is limited to 15. The order of registration is decisive. If all places are taken, you will be put on a waiting list and will be informed as soon as a place becomes available. Due to group work and group allocation, participation is only possible on all 4 days and not on individual days.
For group work, you must bring your own laptop as well as a first draft of the manuscript and data to be edited. We will send further details after registration.
Please note that due to the corona pandemic only fully vaccinated and recovered persons can participate. Proof of vaccination or recovery must be provided (see registration form below). Unvaccinated individuals may only attend if vaccination is not medically possible and an appropriate negative test must be presented at the event (see Corona-related specifications). Should the regulations change by the time of the event in September 2022 due to the corona pandemic, we will inform you in time before the event.
Please also note that, as it currently stands, if you participate, you must comply with these corona rules/hygiene instructions: Corona-related specifications
Feel free to contact us if you have any questions about the event: info@wissenschaftscampus-rostock.de