P-Campus Lecture Series 2023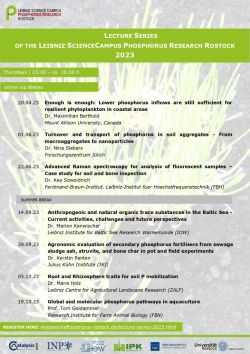 In April 2023, the new multidisciplinary lecture series of the Leibniz Science Campus Phosphorus Research Rostock will start. Look forward with us to exciting lectures from different disciplines and use the lectures for professional exchange.
The lectures will take place on Thursdays at 15:00. They are organized online via Webex and are open to everyone after registration. The presentations will be given in German or English (see respective lecture for details), the slides of the presentation will be in English. Questions to the lecturer may be in German or English.
After your registration you will receive a confirmation e-mail. The access data will be sent to you on the day of the event.
The lectures will be recorded and made available to P-Campus members and registered participants upon request.
Please make sure that Webex has access to your speaker and microphone, if applicable (test here in advance). If you have any questions about this, please contact Maxi Hoche (maxi.hoche@io-warnemuende.de). If you have any subject-specific questions concerning the lectures, please contact Dana Zimmer (dana.zimmer@io-warnemuende.de). We look forward to your participation and exciting discussions.
Lectures